Unfinished Kayu Batu Decking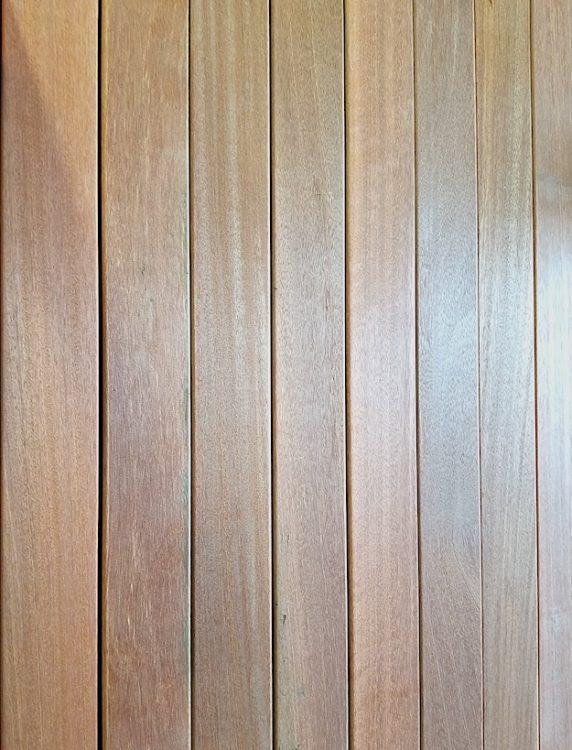 Photos
SKU
KAYUBATU1410 / KAYUBATU148 / KAYUBATU146
Description
Is a new deck in the works at your house? First of all, unfinished Kayu Batu decking is a durable hardwood option. And if you're ready to add an outdoor living space to your home, you'll want to consider mahogany decking. It'll create a perfect spot for entertaining friends and family all summer long and into the fall. And it's beautiful!
Unfinished Kayu Batu Decking
Kayu Batu mahogany hardwood
Available 1 x 4 x 10 / 1 x 4 x 8 / 1 x 4 x 6
Dark, rich mahogany which looks and feels like fine wood flooring
Unfinished. For exterior or interior use.
Durable. Extremely hard, dense and strong.
Completely renewable resource that will last for many years
Great choice for exterior decks, privacy screen, porches and more
Easy to work with, care and maintain
Seal with penetrating oil. If left untreated, the wood develops an attractive silvery tone.
All sizes of this decking is available at our West Warwick (RI) store. Our Lunenburg (MA) store has 1x4x10 and 1x4x6 boards available.
To sum up, we know remodeling your home takes a good amount of time and money. You'll find substantial savings for your home projects at your nearby Builders Surplus store. We offer a great selection of home building materials at the best pricing. And our friendly and knowledgeable staff can help with your home improvement project. So, create the home of your dreams for less than you imagined. And remember, all of our products are Max T. Value approved.
Remodeling? Get it at Builders Surplus for less!
Questions?
Our stores are located in Rhode Island, Connecticut and Massachusetts. And at this time, we are local and only service the New England area. In store purchase and pick up only. We do not deliver, ship items, or place orders online or by phone.
If you have a question about this item or any other product shown, please call 866-739-1636. Since Max T. Value is usually out searching for great deals on home improvement materials, our team will be happy to answer your questions. To be connected with our Connecticut store, press option 1. For Rhode Island (Warwick store), press option 2. And for our Massachusetts store, press option 3.
To contact Builders Surplus stores in West Warwick or Central Falls, click on this link for your nearby store's hours and contact info to speak with one of our friendly associates.