Western Reflections Doorglass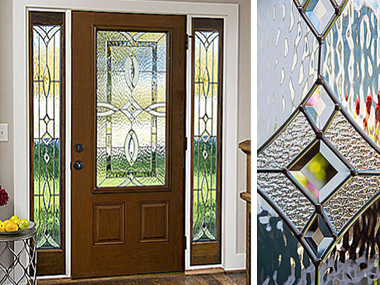 Designer
Western Reflections
Description
Are you looking for a special style for your front entrance?
Western Reflections doorglass offers a wonderful variety of styles when you're looking for a new door. From clear glass to an array of decorative designs, there's one that's just right for your home. In addition, choose either fiberglass or steel for your door. And these prehung doors are available by special order at any Builders Surplus location. So, stop in to any of our locations to speak with an associate about options and pricing.
CLICK HERE to search through styles from the Western Reflections Doorglass Selector to choose the perfect design for your home.
Western Reflection Doorglass Collections
Most of all, Western Reflections offers doorglass collections to meet your style and budget needs. And these collections bring beauty and elegance to your home. Each collection provides many options to enhance a homeowner's entryway and add curb appeal.
Collections include: 
Decorative: Ancestry, Craftsman, Modern and Traditional
Opticks Privacy
Dialogue Layered Glass®
Spotlights® Doorglass
Everyday
Shapes & Sizes / Caming
Western Reflections offers shapes and sizes to fit 6'8″ and 8'0″ fiberglass or steel entry doors. And this makes it easy to find the look and the amount of light and privacy you want. Caming is available in many different finish colors to match or complement your door hardware, exterior fixtures, and/or interior décor.
Privacy (Opacity)
Privacy ratings for door lites, side lites, and transoms allow you to choose the level of privacy or visibility you prefer. For example, levels range from 1 (clear) to 10 (opaque).
Sound, Energy & Weather
Western Reflections doorglass is assigned Sound Transmission Class (STC) codes, to help you select styles that reduce outdoor noise.
There's no need to give up the beauty of doorglass for energy efficiency. Western Reflections offers a complete line of energy efficient door lites, sidelites, and transom windows that, when used in certified doors, meet ENERGY STAR® requirements.
Western Reflections hurricane doorglass protects against water and air infiltration. It is rated for use in hurricane or high wind zones.
And More Choices!
Spotlights® Doorglass
Doorlites designed for the architectural enthusiast. The Spotlights® collection combines minimalist modern frames with shapes and inserts that complement house architecture from the 1920s to today.
Craftsman
Western Reflections Craftsman Collection finds inspiration in the design principles of American Craftsman architecture. In addition, Craftsman doorglass adds authenticity to Craftsman, bungalow, and cottage-style entry doors.
Enclosed Blinds
Between-the-glass blinds provide fingertip control of light and privacy. And because the blinds are enclosed in safety glass, they are dust-free and child-friendly and pet-friendly.
ODL Add-on Blinds for Doors
Similarly, the perfect solution for an existing door with glass, ODL Add-on Blinds for Doors are enclosed in a tempered glass panel. And it easily installs over the existing door glass to create blinds-between-glass. Add-on enclosed blinds for patio doors or hinged exterior doors add light and privacy control in a dust-free solution.
In conclusion, Western Reflections blends seasoned professional experience and modern manufacturing methods. The company provides high quality door lites, injection-molded frames, enclosed door blinds, and related products for the millwork industry.
So, stop by any Builders Surplus location to place an order for your beautiful entry door with Western Reflections doorglass. In addition, to complete your home improvement projects, don't forget to shop the best selection of decorative moulding and millwork in New England. And as Max T. Value always says, "When value's a must, shop Builders Surplus!"
Questions?
Our stores are located in Rhode Island, eastern Connecticut and northwestern Massachusetts. And at this time, we are local and only service the New England area. In store purchase and pick up only. We do not deliver, ship items, or place orders online or by phone.
If you have a question about this item or any other product shown, please call 866-739-1636. Since Max T. Value is usually out searching for great deals on home improvement materials, our team will be happy to answer your questions. To be connected with our Connecticut store, press option 1. For Rhode Island (Warwick store), press option 2. And for our Massachusetts store, press option 3.
To contact Builders Surplus stores in West Warwick or Central Falls, click on the following link for each store's phone numbers and hours to speak with one of our friendly associates.