About
About Builders Surplus
Builders Surplus was founded in 1991 in West Warwick, Rhode Island. What started as a small store in an old mill transformed into a five-store corporation with three locations throughout RI (including West Warwick, Warwick and Central Falls), one in Jewett City, CT and Lunenburg, MA.
Specializing in home remodeling, Builders Surplus prides itself in understanding a homeowner's budget. We want our customers to get the maximum value. So, whether you're building a new home, updating a kitchen, or replacing an old floor, do it yourself and save. When value's a must, shop Builders Surplus!
Just ask Max T. Value about Builders Surplus. He knows the budget can be a main concern for today's homeowners. As a result, Max is a value hound. He's always searching for a great selection of first quality, close-outs, overstocks, and surplus building materials. Most of all, Max wants our customers to get the maximum value. So, when you're ready to start your home improvement, shop Builders Surplus.
Get it at Builders Surplus for less… everyday!
Prehung interior and exterior doors, plus an on-site door shop for custom sizes
Kitchen cabinets, bath vanities, and granite countertops
Decorative wood moulding, millwork, and hardwoods
Hardwood, laminate, luxury vinyl, and tile flooring
Replacement, new construction, architectural, and surplus windows
Decking and siding; plus other seasonal and unique items

All locations are open to the public.
All stores are open Monday through Saturday. Our Warwick store is open on Sunday from 10am to 4pm; all other locations are closed Sunday. In addition, Builders Surplus is closed on the following holidays: New Years Day, Easter, Memorial Day, Independence Day, Labor Day, Thanksgiving, and Christmas.
Follow Max and Builders Surplus on Facebook, Twitter, Instagram, Pinterest, Houzz, and Google for remodeling ideas and new inventory. (To follow, click through on the social media icons located on all our web pages.)
In 2019-2020, Builders Surplus teamed up with the URI Rhody Rams for a free throw campaign to benefit the imPOSSIBLE DREAM. Our teams are committed to enriching the lives of chronically-ill children in Rhode Island.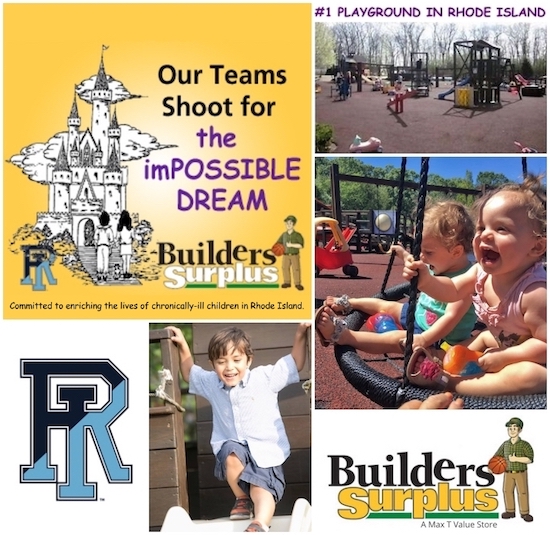 And finally, we're happy to note Builders Surplus was named "Best Building Supplies" in Rhode Island Monthly's "Best of Rhode Island" (August 2009).