Bathroom Vanity Tops – Me & Zoe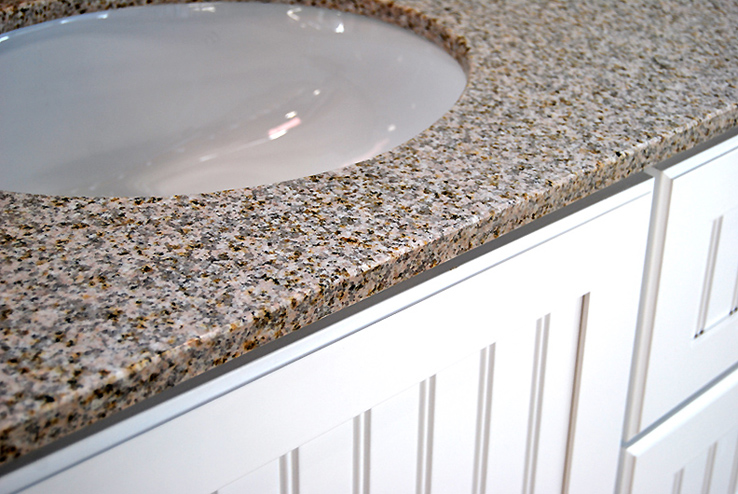 Photos
Description
Design your dream bathroom and find the vanity that you love at Builders Surplus. In addition, choose from a variety of bathroom vanity tops which will complement the decor of the room. And don't forget a touch of decorative moulding in the bathroom to add visual interest and complete your new look.
Bathroom Vanity Tops
Me & Zoe color choices:
Silk Beige quartz: 25″ x 22″
Harvest Gold granite: 25″ x 22″ / 31″ x 22″/ 61″ x 22″
Tan Brown granite: 25″ x 22″ / 61″ x 22″
Tops will fit bath vanity sizes:  24″ / 30″ / 60″
Limited quantities; only available while supplies last. Discontinued product; cannot be special ordered. Please call or visit your local store regarding available inventory.
You've made the decision to update your home, now it's time to shop Builders Surplus. Come in to find designer styled kitchen cabinets and bathroom vanities, fantastic flooring, windows, interior and exterior doors. And don't forget to check out the best selection of decorative moulding and millwork to complete all of your home improvement projects.
Most of all, you'll be satisfied with the quality, great value and exceptional savings. We realize your budget is an important part of remodeling. And Max T. Value is always on the search for the best pricing for our customers. So, don't pay more to remodel your home. Skip those big box stores and shop local. As Max says, "Get it at Builders Surplus for less!"
Questions?
Our stores are located in Rhode Island, Connecticut and Massachusetts. And at this time, we are local and only service the New England area. You must come into our stores to make a purchase. We do not deliver, ship items or place orders online.
If you have a question about this item or any other product shown, please call 866-739-1636. Since Max T. Value is usually out searching for great deals on home improvement materials, our staff will be happy to answer your questions. To be connected with our Connecticut store, press option 1. For Rhode Island (Warwick store), press option 2. And for our Massachusetts store, press option 3.
To contact Builders Surplus stores in West Warwick and Central Falls, click on the link to your nearby store's hours and contact info to speak with one of our friendly associates.