Country Bath Charm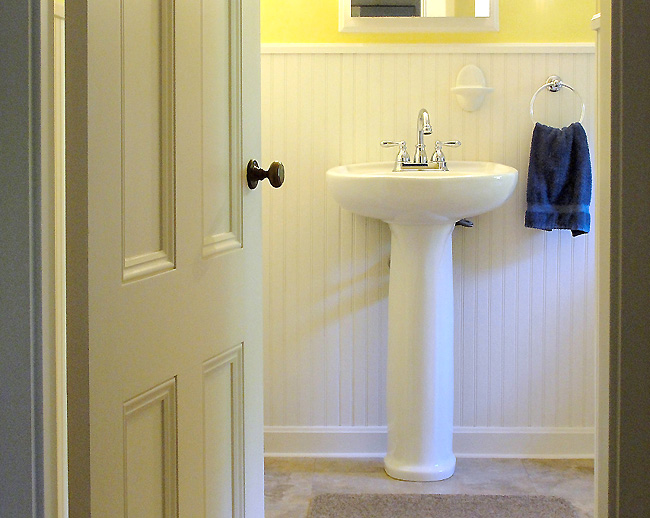 Description
More millwork ideas! Add charm to a delightful small country bath with decorative moulding. Use moulding to complete your home remodel and give any room a finished look. Highlight a bathroom, kitchen, living room and bedroom with moulding accents.
Country Bath Charm
First of all, be brave and skip the usual tile backdrop used in so many bathrooms. For example, install edge and center beadboard as the bottom section of the wall surface. Combine Colonial base moulding with shoe base to provide decorative interest at the floor level. Then, apply cove moulding to the top of the beadboard to complete the wall surface. Finally, paint all of the woodwork white to give a light and bright feel to the bathroom.
On a difficulty scale, this bathroom design was fairly easy to create if you're handy and feel comfortable with tools of the trade. The decorative look was created by using:
Cove moulding
Edge and center bead
Colonial base
Shoe base
In conclusion, shop your nearby Builders Surplus store for the best selection of decorative moulding and millwork. In addition, check out the substantial savings on kitchen cabinets, bathroom vanities, doors and windows, flooring and so much more. Stop by today and speak with one of our associates about your home improvement plans. We'll be happy to help!
Questions?
Our stores are located in Rhode Island, eastern Connecticut and northwestern Massachusetts. And at this time, we are local and only service the New England area. In store purchase and pick up only. We do not deliver, ship items, or place orders online or by phone.
If you have a question about this item or any other product shown, please call 866-739-1636. Since Max T. Value is usually out searching for great deals on home improvement materials, our team will be happy to answer your questions. To be connected with our Connecticut store, press option 1. For Rhode Island (Warwick store), press option 2. And for our Massachusetts store, press option 3.
To contact Builders Surplus stores in West Warwick or Central Falls, click on the following link for each store's phone numbers and hours to speak with one of our friendly associates.