Decorative Crown Moulding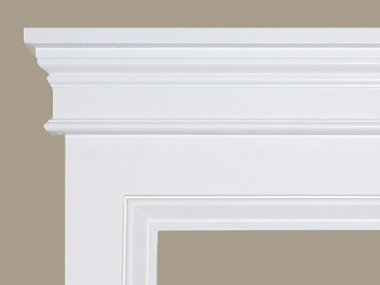 Description
Decorative crown moulding is typically used where walls and ceiling meet. For example, use it alone for simple detail in any room or with a combination of moulding profiles to create a sophisticated look. In addition, introducing paint or stain to moulding adds color and can be used to dramatic effect.
Crown Moulding In Your Home
But the uses for crown don't end at the ceiling of a room. Be creative! Use smaller sizes of moulding for framing pictures or paintings. Find your inner woodworker or craft person by adding decorative details to unfinished furniture. Similarly, add interest to a dining room by creating a plate rail highlighting favorite china dishes or family photographs. And give fireplaces or mantles a new warmth and distinctive look with a touch of decorative trim.
A variety of crown moulding profiles are available at Builders Surplus. Not sure where to begin? Our associates will be happy to help you choose your moulding and suggest decorative ideas for your home.
2-5/8″ primed crown
3-5/8″ primed crown
4-5/8″ primed or clear crown
1-3/4″ bed moulding
When you've made the decision to update your home, put Builders Surplus first on your shopping list. Find designer styled kitchen cabinets and bathroom vanities, fantastic flooring, interior and exterior doors. And the best selection of moulding to complete all your home improvement projects. Most of all, you'll be satisfied with the quality, great value and exceptional savings. Don't pay more to remodel your home. As Max T. Value says, "Get it at Builders Surplus for less!"
Questions?
Our stores are located in Rhode Island, eastern Connecticut and northwestern Massachusetts. And at this time, we are local and only service the New England area. In store purchase and pick up only. We do not deliver, ship items, or place orders online or by phone.
If you have a question about this item or any other product shown, please call 866-739-1636. Since Max T. Value is usually out searching for great deals on home improvement materials, our team will be happy to answer your questions. To be connected with our Connecticut store, press option 1. For Rhode Island (Warwick store), press option 2. And for our Massachusetts store, press option 3.
To contact Builders Surplus stores in West Warwick or Central Falls, click on the following link for each store's phone numbers and hours to speak with one of our friendly associates.