Custom Door Shop
Description
Have you found the perfect door at one of our locations, but need a special size or an alteration? Max T. Value says, "We've got an on-site Custom Door Shop at Builders Surplus ready to assist you with your special order. And you'll love our quick turnaround time!" In addition, we may not be able to accommodate every custom design project, but listed here are alterations we can do for you.
Take a look: Inside our Door Shop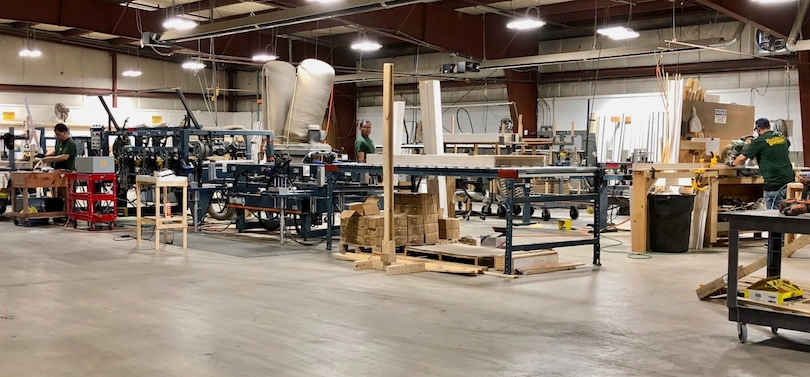 Custom Door Shop features
Interior Doors
Large selection of interior door styles and sizes available
Custom height available
Molded doors available hollow or solid core with a smooth or textured finish
Customized 6-Panel pine door height and jamb depths
Exterior Doors
Large selection of glass options available on exterior doors
Height and jamb depths can be customized
Composite, maintenance-free frame upgrade available
Single or double bores
Outswing doors / double doors can be made at our Custom Door Shop
Customize your exterior door with a doggie door, peep hole, or mail slot
Put Builders Surplus at the top of your shopping list when looking for a great selection of first quality doors for your home. Take rough measurements before you purchase a new door to help make the installation a little easier. Got questions? Our knowledgeable staff will be happy to assist you.
As Max T. Value always says, "When value's a must, shop Builders Surplus!" When you're building or remodeling, our stores offer a great selection of kitchen, bath, flooring, moulding and much more that will be perfect for your home. And all of our building materials are Max approved! So, you can create the home of your dreams today… and for much less than you imagined.
Questions?
Our stores are located in Rhode Island, eastern Connecticut and northwestern Massachusetts. And at this time, we are local and only service the New England area. In store purchase and pick up only. We do not deliver, ship items, or place orders online or by phone.
If you have a question about this item or any other product shown, please call 866-739-1636. Since Max T. Value is usually out searching for great deals on home improvement materials, our team will be happy to answer your questions. To be connected with our Connecticut store, press option 1. For Rhode Island (Warwick store), press option 2. And for our Massachusetts store, press option 3.
To contact Builders Surplus stores in West Warwick or Central Falls, click on the following link for each store's phone numbers and hours to speak with one of our friendly associates.