Decorative Moulding Displays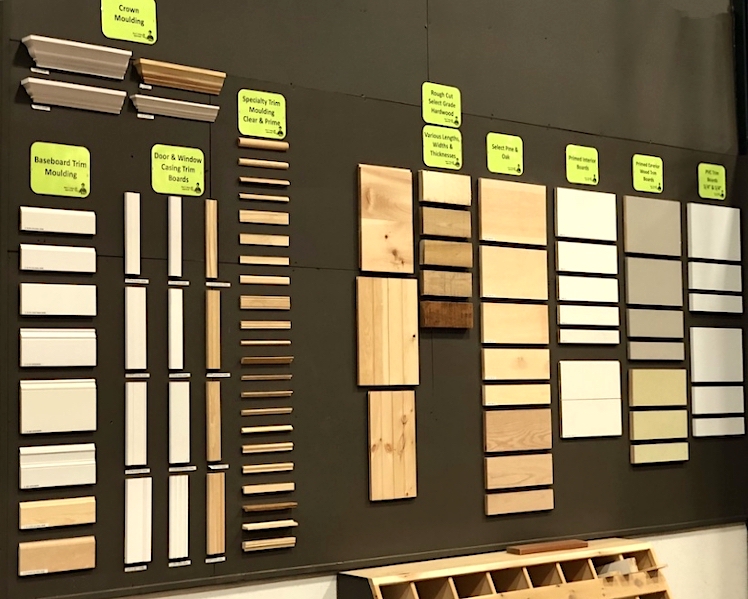 Description
Shown on this wall are a few examples of decorative moulding displays (or build-ups) and wall panels. What's a build-up? A millwork build-up is a combination of two or more moulding profiles which creates a new design. With a little imagination, you can make a custom design all your own.
Decorative Moulding Displays
Use moulding to decorate not only where the ceiling and wall meet, but add interest to baseboards (where walls and flooring meet). For example, create decorative panels for a stylish look to the walls in your home or office. In addition, consider embellishing a fireplace or mantle, picture frames, unfinished furniture, and so much more. Moulding and millwork are an integral part of completing your home.
Want a few ideas to get you started? When you're ready to build a new home or update your current residence, Builders Surplus has a great selection of decorative moulding and millwork. And Max T. Value always searches for the lowest pricing for our customers. And our friendly and knowledgeable staff will help you get started with your home improvement project. So, you can create the home of your dreams… and for far less than you imagined! And as Max always says, "Get it at Builders Surplus for less!"
Questions?
Our stores are located in Rhode Island, eastern Connecticut and northwestern Massachusetts. And at this time, we are local and only service the New England area. In store purchase and pick up only. We do not deliver, ship items, or place orders online or by phone.
If you have a question about this item or any other product shown, please call 866-739-1636. Since Max T. Value is usually out searching for great deals on home improvement materials, our team will be happy to answer your questions. To be connected with our Connecticut store, press option 1. For Rhode Island (Warwick store), press option 2. And for our Massachusetts store, press option 3.
To contact Builders Surplus stores in West Warwick or Central Falls, click on the following link for each store's phone numbers and hours to speak with one of our friendly associates.