Kitchen Measuring Guide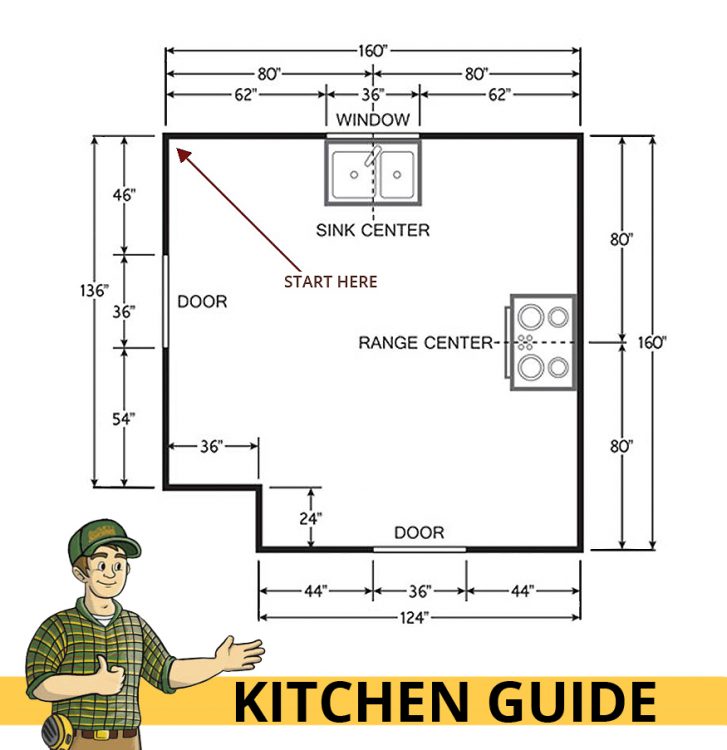 Description
You're ready to start creating your dream kitchen. But where to begin? Try our kitchen measuring guide as a start, but then come to Builders Surplus to speak with a kitchen designer. Using the latest in computer kitchen design, they will help you to create the kitchen you've been waiting for. We've included a sample of kitchen photos here, but there are many more choices in our kitchen collections.
Getting Started
Step 1: Be prepared. Come in with ideas, pictures and dimensions to give to your designer. In addition, create a folder with what you might want in your kitchen (include cabinet style, counter-top, colors, flooring, etc.).
Step 2: Appliances. What do you want in your kitchen? Oven, refrigerator, microwave, dishwasher… This will help a designer to create your kitchen. Most appliances come in standard sizes, but it's best to know the exact size of each to fit the given space.
Use Our Kitchen Measuring Guide
Step 3: Using our kitchen measuring guide, take accurate measurements of your kitchen.
Determine the length of each wall in your kitchen (appliances, doorways and windows)
Take measurement from the

corner

to the trim of each window and doorway
Measure the width of each window and doorway (include trim)
Measure from the corner to the center of the stove
Calculate the width/height/depth of each appliance and bump out (ex. chimney or beam)
Take measurements from floor to ceiling. Do this in several locations and provide us with the shortest height. (Include height of a soffit if you have one.)
Bring photos of areas in your kitchen which may be difficult to explain.
Speak With A Designer

Step 4: Updating a kitchen is a big project, so set a time that's best to discuss your ideas in full. Also, be sure to bring measurements and your creative folder. Kitchen design services are available at all Builders Surplus locations. Stop by or make an appointment to speak with one of our designers about your ideas for a new kitchen.
Step 5: At your appointment, the kitchen designer will provide a 3-dimensional drawing of how your kitchen will appear when finished. This will show how your cabinets will be laid out and where appliances will be placed. This should alleviate problems when installing the cabinets. Your kitchen designer will ask you questions about the type of cabinets you want, accessories (trash pull-out, roll-out trays…), crown molding, under cabinet light fixtures, etc. Most of all, share your thoughts and ideas with your designer.
Step 6: Hardware and countertops. Consider the wide selection of cabinet hardware and countertops. What works well with your cabinets? Then select a granite, laminate or quartz countertop in a contrasting or complimentary color.
The Estimate
Step 7: After your appointment is finished, the designer will gather your information and prepare an estimate. You will be contacted to return and review the estimate, all measurements, and expenditures. If necessary, discuss any changes you'd like to make in your kitchen design now. Your designer will then reprice your estimate and give you the final cost. You're now on your way to having the kitchen you've always wanted!
To read our blogs, click here.