Koma PVC Trim Moulding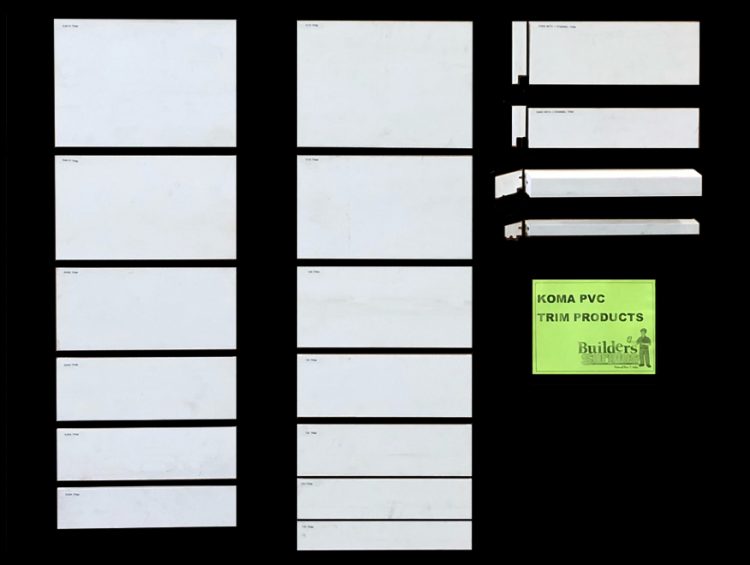 Photos
Description
Special purchase! Since PVC trim boards are so durable, they can be used in a variety of remodeling and building applications. And they're lightweight and easy to install. Therefore, use smooth finish board as decorative trim, fascia, soffits, columns and much more.
Koma PVC Trim Moulding & Boards
Smooth matte finish
Pre-sanded for best paint application
Moisture, rot and mold resistant
Bug and insect resistant
Easy to cut, drill, rout, glue, nail or staple with standard tools
Minimal maintenance; easy to clean with soap and water
Sheets:
4′ x 8′ x 1/2″ full sheet / beaded
4′ x 8′ x 1/2″ full sheet
4′ x 8′ x 1″ full sheet
1″ Boards:
1 x 12
1 x 10
1 x 8
1 x 6
1 x 5
1 x 4
1 x 3
5/4 Boards:
5/4 x 12
5/4 x 10
5/4 x 8
5/4 x 6
5/4 x 5
5/4 x 4
5/4 x 5  J-channel trim
5/4 x 4  J-channel trim
Special purchase; available only while inventory remains. Largest selection is at our West Warwick store. These products are currently not available in our Central Falls location.
So, are you ready to take on a little home improvement? It's time to shop Builders Surplus! Come in to find first quality kitchen cabinets and bathroom vanities, fantastic flooring, interior and exterior doors, windows and decking. And don't forget about the best selection of moulding to complete all of your home improvement projects.
We realize your budget is an important part of remodeling. But once you've visited Builders Surplus, you'll be happy with the quality, value and substantial savings. In fact, all of our building materials are Max T. Value approved. So, don't pay more to remodel your home… skip those big box stores. And as Max says, "Get it at Builders Surplus for less!"
Questions?
Our stores are located in Rhode Island, eastern Connecticut and northwestern Massachusetts. And at this time, we are local and only service the New England area. In store purchase and pick up only. We do not deliver, ship items, or place orders online or by phone.
If you have a question about this item or any other product shown, please call 866-739-1636. Since Max T. Value is usually out searching for great deals on home improvement materials, our team will be happy to answer your questions. To be connected with our Connecticut store, press option 1. For Rhode Island (Warwick store), press option 2. And for our Massachusetts store, press option 3.
To contact Builders Surplus stores in West Warwick or Central Falls, click on the following link for each store's phone numbers and hours to speak with one of our friendly associates.