What Is Millwork?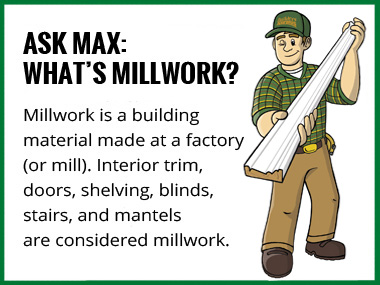 Description
So, do you know what millwork is all about? Quite simply, and as the name suggests, it is a product which is manufactured at a mill.
Surprise, It's Millwork
Look at your house. Examine the interior, exterior and decorative elements. You'll find a good amount of what is in and around your home is known as a mill product. Doors, stairs, paneling, cabinets and mantels are some of the larger pieces. In addition, shelving, chair rails, and blinds are also included in the list. (Cabinets and bookcases can also be known as "casework.")
Moulding and millwork are integral pieces to your home design. These elements should be well planned and not just an afterthought to complete the job. Stop by one of our stores to speak with an associate about your home improvement plans. We'll be happy to answer any questions you may have.
And remember, when you're ready to remodel your home, shop Builders Surplus. Our stores offer a great variety of first quality building materials. In addition to kitchen and bath, come in to see doors and windows that will be perfect for your home. And finish the job with the best selection of decorative moulding in New England!
You can create the home of your dreams and for much less money than you imagined. As Max T. Value will tell you, "Shop Builders Surplus and get it here for less."
Questions?
Our stores are located in Rhode Island, eastern Connecticut and northwestern Massachusetts. And at this time, we are local and only service the New England area. In store purchase and pick up only. We do not deliver, ship items, or place orders online or by phone.
If you have a question about this item or any other product shown, please call 866-739-1636. Since Max T. Value is usually out searching for great deals on home improvement materials, our team will be happy to answer your questions. To be connected with our Connecticut store, press option 1. For Rhode Island (Warwick store), press option 2. And for our Massachusetts store, press option 3.
To contact Builders Surplus stores in West Warwick or Central Falls, click on the following link for each store's phone numbers and hours to speak with one of our friendly associates.