General
Spring Cleaning Tips To Remember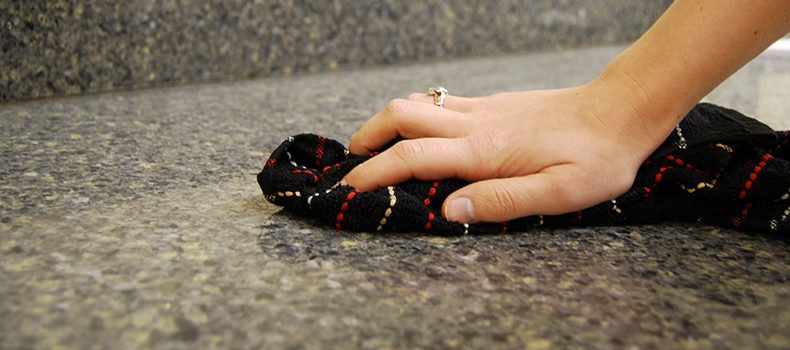 Guess what time it is? Spring cleaning! It's time to get your home prepared for the warm weather. Spring is the perfect point to do all those cleaning projects you wanted to do during winter, but didn't have the time.
Your Cabinets
Over time, build-up can form and collect on your kitchen cabinets. If you don't run the exhaust hood over your range while you cook, you're more likely to have grease settling on your cabinets as well. To get rid of the build-up, buy a specialty cabinet cleaner or a kitchen cabinet "cream." Do some research on which one will work best for your type of cabinets and not break the bank. I found one on amazon for $8! And finally, you probably have ingredients for the best cleaning methods already in your home. The internet is full of old-fashioned solutions including liquid detergents, vinegar or baking soda.
Your Granite Countertops
Cleaning your countertops can be very simple. Be sure to get the granite sealed a few times as soon as it's installed in your home. This prevents stains and cracks. Getting it sealed saves you a lot of trouble in the long run. Try getting it sealed a year after the first time it was done. Or maybe, every spring around cleaning time? Never use abrasive or steel wool pads. And you stay away from chlorine bleach as it could possibly discolor the countertop. A simple rule is "Mild is better."
Spring Cleaning Your Windows
Your windows look clean from a distance, but have you checked the outside of your windows lately? I know this can prove to be an intense job. If you have the extra money, hire window cleaners. But if you're on a budget, do it yourself. Spring is the perfect time to remove spots or smudges which are probably on your windows. In my experience, I've learned never to use a rag when cleaning windows as it will leave streaks, marks and lint. Try some Windex (or a spray mix of 50% white vinegar / 50% water) and use your local newspaper to dry. It's better than paper towel (no lint)! Also, wash your windows on a cloudy day. I know… weird, right? But this ensures the sun won't dry out the cleanser before you're done wiping it off.
Your Refrigerator
This doesn't mean just the outside, people. It's time to do the inside of your fridge too. Pull out all of your fridge shelving and drawers. Be sure to wash them using a soft cloth (or sponge) with warm water and liquid soap. Wipe down all the surfaces that can't be taken out. And don't forget about the freezer. Then clean the exterior. Depending on the type of refrigerator surface finish you have, be sure to research what's best for cleaning stainless steel appliances. Never use abrasive or steel wool pads, bleach, or products containing harsh chemicals.
Hopefully these tips were helpful and you're ready to tackle your spring cleaning list!