General
Storage Cabinet Ideas for your Home

Shop our stores and you'll find great pricing on all of our building materials. And then if you look even further, there are awesome deals on clearance items. Like our storage cabinets. So, what can you do with these? Here's a few storage cabinet ideas that'll help organize your home!
Storage Cabinet Ideas
First of all, clearance cabinets are mainly discontinued stock or buyouts. There aren't enough cabinets to create a full kitchen, therefore we offer them as storage cabinets. And Max T. Value gets these items for a great price and passes those savings on to our customers. So, where to use these in your home?
Basement. Wall cabinets are great for storing items that need to be off a damp basement floor. In addition, organize seasonal items where you'll find them when you want them.
Laundry area. Stack one cabinet above another to keep all your detergents and cleaners hidden from view. Hide dirty laundry in the lower cabinet.
Garage. Organize tools, lawn and garden products, paints, plus seasonal items in wall or base cabinets.
Craft area. Keep sewing fabrics, floral, or jewelry making materials neat and tidy.
Kid's corner. A corner cabinet keeps crayons, paints, puzzles, games and toys out of view when guests visit.
Cabinets as a Window Seat
Or think of your own creative way to use clearance cabinets. For example, this simple window seat. Using two 36″x15″x24″ over-the-refrigerator wall cabinets in an enclosed porch created a seating area and an extra storage space. Measuring the space from wall to wall equalled 74″. Perfect for two 36″ cabinets! And luckily, the floor was even. No need for adjusting to align them next to each other.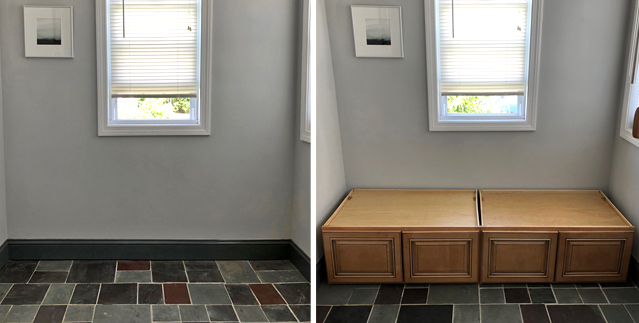 First, adding a layer of boards keeps anyone from sitting directly on top of the cabinets. Fit furring strips to the cabinet depth (1) and place at each end of the cabinet top. Next, cut pine boards to 6′ lengths (2) and place over the furring strips. After marking each board, drill holes. Then screw together boards and furring strips (3). Sand boards and seal with varnish.

These boards fit snugly into the top of the storage cabinets (below left). And a 72″x24″x4″ foam cushion became the base for a comfortable seating area (below right). Leftover upholstery fabric from other home projects became a sewn patchwork cover for the foam.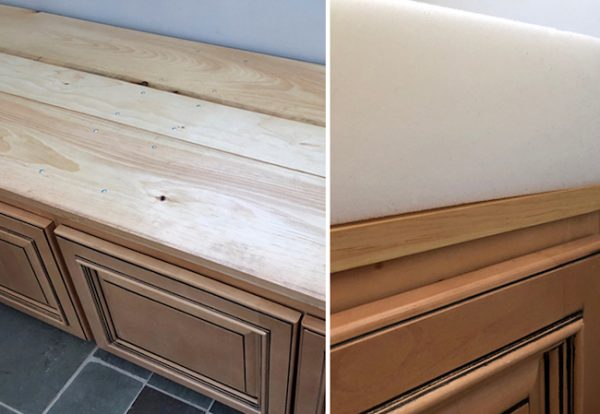 And finally, the finished project! Not only is there a seating area, but there's plenty of storage for books, games, and puzzles. In addition, another great idea would be to add a shoe tray inside the cabinet to hide sneakers and boots away.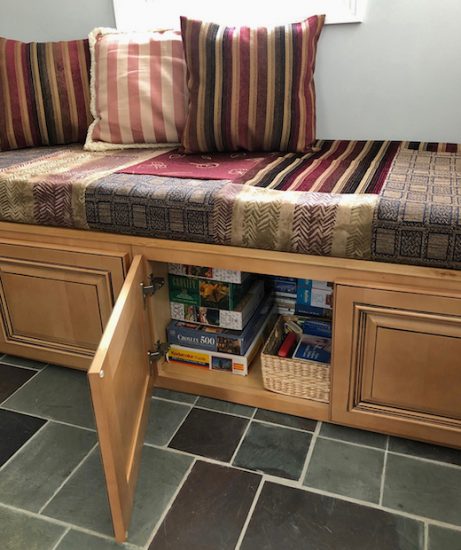 So, be creative and get organized in your home! Visit our stores for extra savings on clearance products and manager's specials. And remember, all items are first quality and Max T. Value approved.