Kitchen
Can a Kitchen Island Be Longer Than Cabinets? Your Remodel Questions Answered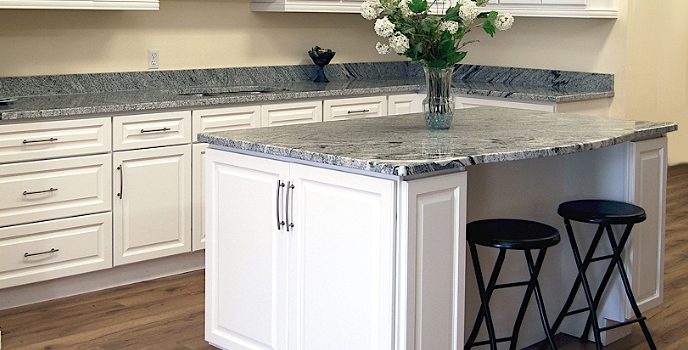 You are ready to enhance your kitchen with an island. But can a kitchen island be longer than cabinets? What you should be considering.
There's nothing that gives your house a feeling of home like gathering with friends or family in the kitchen to prepare a great meal together. Instead of the frustration of having too many cooks in a cramped kitchen, you plan to add a kitchen island that you can stand or sit around with those you love. But there are design considerations to keep in mind, like "can a kitchen island be longer than cabinets?" to make your kitchen look and feel great. Read on for our simple guide.
Not all kitchens are built the same, and they don't all support the feeling of coming together – because they just don't have the space for it.  If you want to make changes to your kitchen but you're not sure where to start, we have good news. Builders Surplus offers substantial savings for DIY homeowners, remodelers, and local contractors, and our friendly staff are happy to answer any questions every step of the way.
Stop by one of our five New England locations and talk with our designers about all the options you want for your new island.
We'll make sure you have what you need to make your dream kitchen a reality.
Island or Peninsula
When remodeling your kitchen, start with feel and function. Creating a place to sit can make your kitchen homey, and adding a workspace with cabinetry below will make it functional. There are a couple of ways to do this. 
A Peninsula is attached to the wall of your kitchen on one end. It can function a lot like an island, but peninsulas can lead to traffic jams and generally aren't considered as appealing for a kitchen remodel.
On the other hand, a kitchen island is freestanding, with space to gather all the way around it. You can add chairs to create a casual and congenial place to sit with friends or family. The size of your island will depend on the layout of your home, and how you want your island to serve you.
When it comes to design, your new island can complement or contrast with your current kitchen cabinets and look great. You get a lot of counter space from a kitchen island, and with cabinetry below, you have a functional new storage option too.
This brings us back to the question: can a kitchen island be longer than cabinets?
Can a kitchen island be longer than cabinets?
Kitchens have a range of design styles and you should keep yours in mind when planning your kitchen island. 
Some designers and homeowners prefer to install an island in line with the current kitchen cabinetry, but your layout and the way you plan to use your island will help you answer the question, "can a kitchen island be longer than cabinets?". 
For example, if you want your island to have seating on one side, you might extend it beyond the line of the cabinets to give it a bar seating feel. Kitchen islands can become a focal point for the family in your home and extend even beyond the kitchen in an open floor plan, creating a bridge between rooms.
If you have the space for a kitchen island that's longer than your cabinets, it's an option.
What's important is that you don't make it so long that you disrupt workflow or obstruct movement around your kitchen. Plus you need to have the proper clearance for cabinets to open freely.
Builders Surplus is your kitchen remodel destination
Are you thinking about renovating your kitchen? Shop Builders Surplus for cabinets, kitchen islands, countertops, and cabinet knob/pull hardware. Our kitchen & bath showrooms offer an exceptional variety of styles, colors, and finishes. 
Plus, your kitchen island can be customized to your specifications from all of the base cabinetry found at Builders Surplus. Just ask our designers to help you put together exactly what you want. 
Stop by one of our five New England locations today!