Kitchen Design Style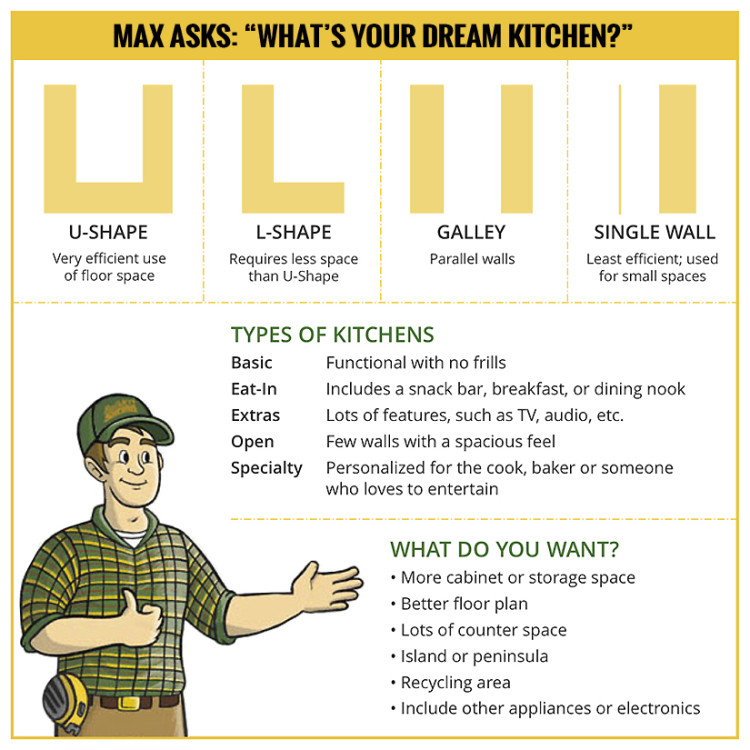 Photos
Description
It can be exciting and it can be frustrating! In addition to cabinet and hardware choices, new flooring or paint, a kitchen remodel takes planning. Do you know what is your kitchen design style? Here's a few things to keep in mind when you've decided to renovate your kitchen.
Max suggests the following for your kitchen design style:
Keep the classic "kitchen work triangle" in mind when designing your kitchen. The stove/oven, sink and refrigerator all need to be in a functional work space. You'll feel more comfortable cooking in the kitchen when all of your appliances are within easy reach.
Paths within the cooking zone should be 42 inches wide for a one cook kitchen and 48 inches wide for a kitchen with two cooks.
To make cabinet doors fully functional, plan enough space for the door's clearance in your kitchen design.
Allow for counter space. About 15 inches on either side of a cook top and refrigerator gives ample work space.
Tiling a backsplash adds color, texture and personality to a kitchen.
When remodeling, add enough power sources for relocated or new appliances.
Plan for storage. Do you have enough storage for things other than dishes, glasses, pots or pans?
Complement your kitchen style with unique cabinet knobs and pulls.
Kitchen design services are available at all Builders Surplus locations. Stop by to speak with one of our designers about your ideas for a new kitchen. We'll be happy to help you plan and create the kitchen you've always wanted.
Questions?
Our stores are located in Rhode Island, eastern Connecticut and northwestern Massachusetts. And at this time, we are local and only service the New England area. In store purchase and pick up only. We do not deliver, ship items, or place orders online or by phone.
If you have a question about this item or any other product shown, please call 866-739-1636. Since Max T. Value is usually out searching for great deals on home improvement materials, our team will be happy to answer your questions. To be connected with our Connecticut store, press option 1. For Rhode Island (Warwick store), press option 2. And for our Massachusetts store, press option 3.
To contact Builders Surplus stores in West Warwick or Central Falls, click on the following link for each store's phone numbers and hours to speak with one of our friendly associates.