Kitchen
Measurements

If there's one constant in practice when remodeling, it's measurements. Whether it's a rough opening for doors or windows, total room size for new flooring, or the space needed for cabinets and appliances for a kitchen remodel, you must measure accurately.
Types of Measurements
Square Foot – It's the area inside a square which measures one foot per side. Length multiplied by width will equal square feet. For example, an 8' x 10' room equals 80 square feet.
Linear Foot – 12" in length and measured in a straight line. Decking and lumber are usually measured in linear lengths. So, a 16' LF piece of lumber is 192 inches in length. (Also known as lineal foot.)
Board Foot – A board foot is 144 cubic inches of wood. To calculate board foot: width (inches) x length (inches) x thickness (inches) divided by 144 equals board feet. For example, a board that is 6.5″ wide x 120″ long x 5/4 thick will equal 6.77 board feet. [6.5″ x 120″ x 1.25″ = 975; total divided by 144 equals 6.77 board feet]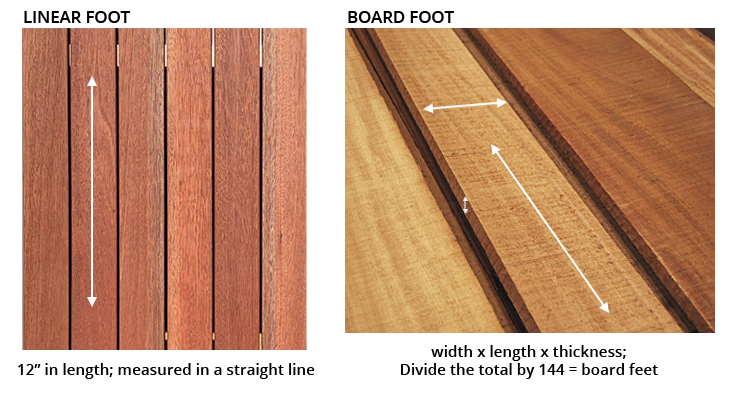 Standard Door Size Measurements
Exterior Doors – The most common exterior door size is 36" x 80" (also referred to as 3/0 x 6/8). Historic or older homes may have size differences which require custom doors.
Interior Doors – In addition, a 32" x 80" interior door is commonplace, but can also vary from 30" to 36" widths. And the ADA Doors Requirements standard minimum size is 32" clear width for doorways with wheelchair accessibility.
Rough Openings – To help with the installation of an interior or exterior door, add a few inches to the door width and height. Check out our website links for interior rough openings and exterior rough openings.
Kitchen & Bath Standard Sizes
Kitchen Cabinets – Upper & Lower
Standard upper wall cabinet height range is commonly 30", 36" or 42".  But there are other wall cabinets (such as an over the refrigerator cabinet) ranging 12", 15" or 18" in height. Widths are generally available from 9" – 36", with 30" being the most popular. Depth can vary, but 12" deep is standard for most wall cabinets.
Base cabinet height is 34-1/2" (without countertop). Widths range from 9" – 36" for base cabinets. Depth is usually 24 inches.
Kitchen Countertops – From wall to front edge, a countertop will measure around 25.5", which allows for a 1-1/2" overhang on base cabinets.
Click the link for our guide on how to measure for a kitchen remodel.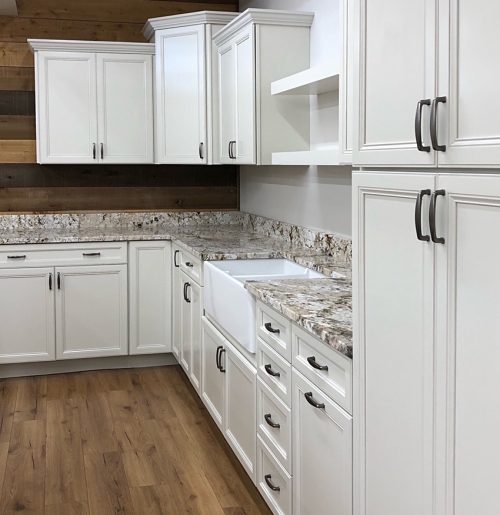 Bathroom Vanities – Standard vanity widths are 24", 30", 36", 48" for single bowl styles and 60" for double bowl vanities. In addition, 18" and 72" vanity sizes can sometimes be found. Heights can differ between 30 – 36 inches (without vanity top). The average depth for vanities is 21 inches.
Vanity tops are usually larger than the vanity in width and depth. For instance, a 49" x 22" vanity top will fit a 48" vanity.
We hope these common size measurements will help when you're creating a rough template for your remodel. Always remember, room spaces can sometimes be uneven or not square – especially in old houses! A custom order may be needed to solve those issues. Got questions? Stop by any of our locations to speak with one of our friendly associates.