Kitchen
Three Wall Decor Ideas for 2023

Are you remodeling soon? We've rounded up three wall decor ideas you can use to add dimension and personality to your space. 
Decorating a wall with tile, moulding or lumber is a fantastic way to make a home stand out and give it a unique, eye-catching look. You can create many different designs and establish a lively atmosphere with various colors, shapes, and sizes of tiles, wood edging, and more. Use tiles or lumber to create stunning backsplashes, accent walls, or full-wall designs. Whether you're going for something simple or something bold, there are plenty of wall decor ideas to bring your vision to life. 
Let's explore the most popular designs. We will discuss incorporating these three wall decor ideas into your home. From classic patterns to modern arrangements, there are plenty of ways to make your walls stand out. 
Whether you want to refresh a kitchen backsplash or retile an entire bathroom, we can help! Contact the Builders Surplus team at 866-739-1636 or tell us about your project using the online form.
Three wall decor ideas 
Edge & center bead
Are you looking to incorporate wainscoting into your home or remodel project? Edge and center bead is a perfect solution for adding texture and interest to an otherwise plain wall or ceiling. Depending on your style preferences, edge and center bead can also be paired with various other decorative mouldings to create a stunning visual element that elongates the space and draws the eye upward. And it also looks awesome on a ceiling!
Ceramic wall tile
While ceramic tile, like the White Vena ceramic tile, is often reserved for flooring and countertops, but you can also use it on walls. Ceramic tile fitted for the wall can bring a room or space to life. It invokes a modern, clean design with points of interest, especially if you choose a ceramic wall tile with a marbled look. This can be an especially great tile for use in covering bathroom walls to bring a fresh look to the room. Why not add some dimension and personality to your small bathroom with floor-to-ceiling ceramic tiles? If you need help choosing the perfect tile or want to see how it might look in your space, reach out!
Mosaic glass tile
Mosaic glass tile adds a stunning, glossy visual element to any kitchen or bathroom. Use mosaic glass tile as a kitchen backsplash or add a sparkling visual element to any bathroom design or remodel. There are a variety of colors, tones, and textures to choose from, including gray, brown, silver, and marble. These tiles evoke a feeling of serenity and work exceptionally well in creating a spa-like environment in a bathroom or dressing room.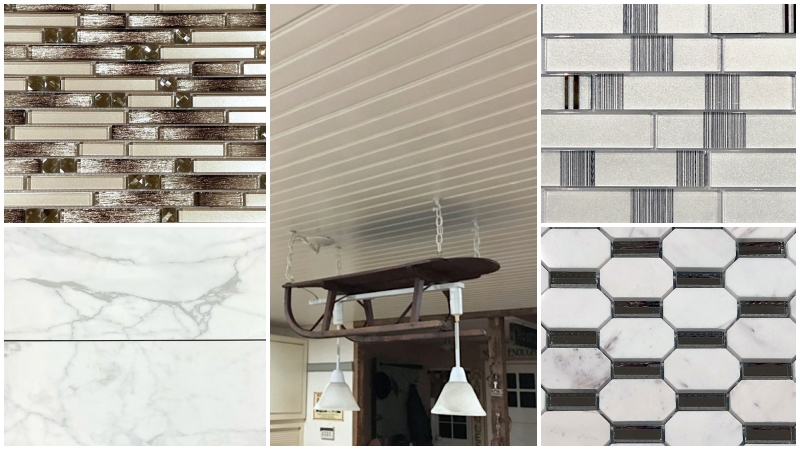 Choose value and style with Builders Surplus
While there are various tiles colors and styles, these three wall decor ideas are some of our favorites for 2023! Incorporating texture on walls is a great way to add a unique touch and character to any home. The size, shape, texture, color, material, and design must be considered when selecting the right flooring and wall coverings, but it doesn't have to be a drag. Whether designing your space or choosing the perfect materials for a client project, we can help you find exactly what you need at any of our Builders Surplus locations.
Reach out to Builders Surplus today by calling 866-739-1636 or dropping us a line here.