Doors
Western Reflections Doorglass Collections

Western Reflections doorglass collections meet your style and budget needs, while bringing beauty to your home. Each style collection presents a variety of options to enhance a home's entryway and add curb appeal.
Western Reflections offers shapes and sizes to fit 6'8″ and 8'0″ fiberglass or steel entry doors, making it easy to find the look and the amount of light and privacy you want. Collections include: Ancestry / Craftsman / Modern / Traditional / Opticks Privacy / Dialogue Layered Glass® / Spotlights® Doorglass / Everyday
Click our link to see the style selections of Western Reflections Doorglass. And these beautiful prehung doors are available by special order at any Builders Surplus location.
Doorglass Options
Privacy (Opacity)
Ratings allow you to choose the level of privacy or visibility you prefer. For example, privacy levels range from 1 (clear) to 10 (opaque).
Sound Suppression & Energy Efficiency
Western Reflections doorglass is assigned Sound Transmission Class (STC) codes, to help you select styles that reduce outdoor noise. There's no need to give up the beauty of doorglass for energy efficiency. And Western Reflections offers a complete line of energy efficient door lites, sidelites, and transom windows that, when used in certified doors, meet ENERGY STAR® requirements. In addition, doorglass styles rated for severe weather (high velocity wind) is also available.
Caming
You've seen this material when you've looked at beautiful pieces of stained glass art. It is applied where the different pieces of decorative glass meet. Caming holds the entire glass design together. It is available in many different finish colors to complement your door hardware, exterior fixtures, and/or interior décor.
Additional Doorglass Styles
In addition to Craftsman, modern and traditional styles, Western Reflections offers textured glass designs, clear doorglass and enclosed blinds. These are simple, clean designs, and there's sure to be one style perfect for your remodel.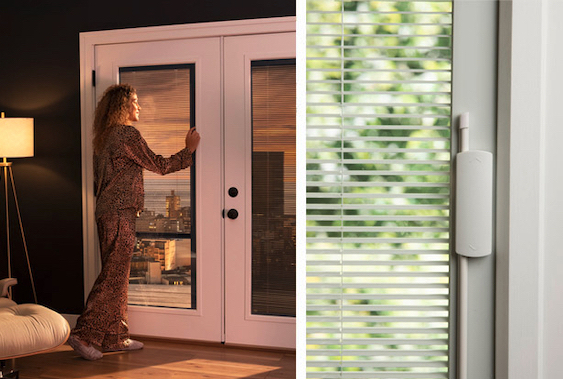 So, when you're ready for a beautiful decorative glass door, stop by any of our stores in Rhode Island, Connecticut and Massachusetts to speak with our team about options and pricing.