Kitchen
Our Helpful Remodeling Guides

So, you're thinking about remodeling your home and aren't sure where to begin. Our helpful remodeling guides for kitchen measurements, door openings, and decorative moulding might be just what you need to get started!
Our Kitchen Measuring Guide
Here's information on how to get the necessary measurements for your kitchen remodel. Try our kitchen measuring guide as a start, then come to Builders Surplus to speak with a kitchen designer. Using the latest in computer kitchen design, one of our designers will help you to create the kitchen you really want.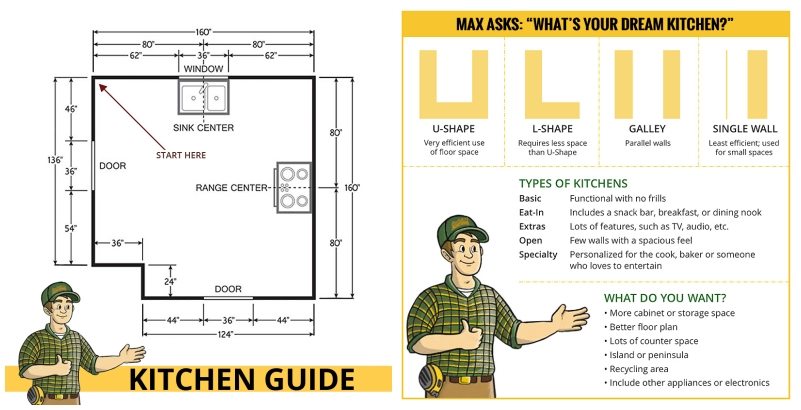 Kitchen Design Style
What kitchen design style best fits your lifestyle? These are practical suggestions when remodeling your kitchen space. Stop by your local Builders Surplus store to speak with a designer about your dream kitchen.
Door Rough Openings
Rough openings for doors can be confusing. Do you need a little help when fitting a new door to your home? These are rough openings charts for standard size doors. Max T. Value says keep this information in mind when purchasing a new door. And if you're planning on doing it yourself, these measurements should help to make your installation a little easier.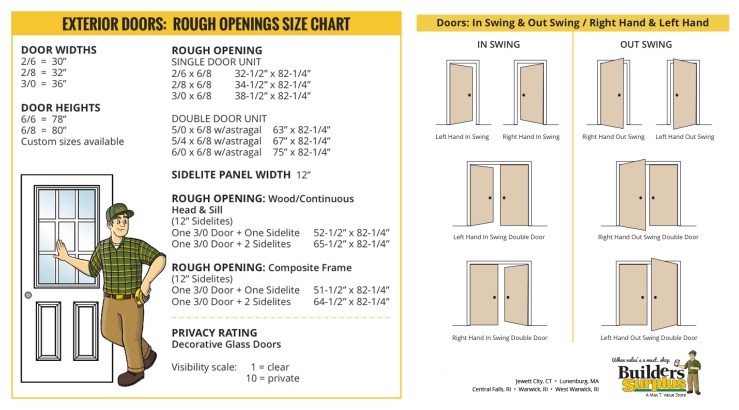 Door Swings
Most folks find door swings confusing. It all depends on where you're standing and how the door swings into the area where you want to go.
Our Helpful Remodeling Guides: Moulding Profiles
Moulding… woodwork… trim. It's about incorporating a decorative element throughout your home. (For example, think about doors, windows, fireplaces, chair rails and much more!) Our helpful remodeling guides show some basic moulding profiles. Not sure where to start? Keep it simple with one profile or combine two or more profiles to create an original look that's all your own.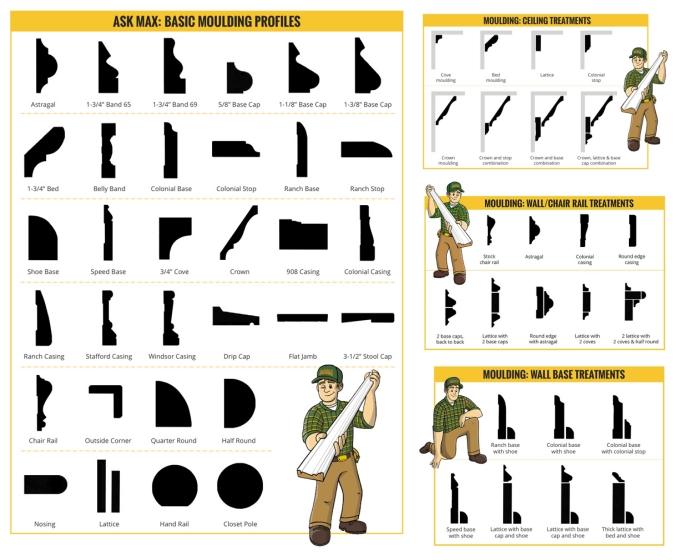 Moulding Build-ups
A build-up is just a combination of two or more moulding profiles which create a new design. And with a little imagination, you'll be able to make it a custom look all your own. Then use that same build-up throughout your home to keep a consistent appearance from room to room. Max T. Value says the decorative design possibility to create your style is endless!
In short, just click on one of the links provided in this blog for more information on our website.